A Fun, Affordable Pocket Cruiser
Hailed as a Modern Classic
The Malbec 18 has been hailed as a modern classic by the sailing press and small boat aficionados alike. Nominated as a Best Boat for 2018 by SAIL Magazine and praised as "charming…fun and responsive" by Cruising World, the Malbec 18 blends performance with comfort, stability, and versatility. It has twice appeared on CBS' "The Price is Right."
Great Performance
This lightweight, beachable cruiser offers a huge six-foot cockpit with seating for six adults, and features a spacious, airy cabin that sleeps a family of four. That makes the Malbec 18 the perfect boat for experienced sailors looking to right-size from larger or smaller boats, and its safe, forgiving sailing characteristics make it ideal for newbies, too.
As a spritely performer, the Malbec 18 would make a superb one-design club racer. As a first family boat, it's easy to handle for the youngest hands.
Created by a leading marine architect and the former manufacturer of the wildly-popular West Wight Potter and Voyager 20, the Malbec 18 hull design features hard chines for great aquadynamics at heel, and semi-planing at higher speeds. The most experienced sailors will appreciate its excellent pointing ability, and zippy off-the-wind performance.
Control and Safety
Stability, control, and modern ergonomics are crucial to a good pocket cruising experience. The ballasted swing centerboard can be controlled from the cockpit for simple singlehanding, beaching, and trailering. An adjustable backstay enables performance tuning, and because most of the ballast is not in the centerboard, the boat offers high a stability ratio under all circumstances.
You can confidently take the Malbec 18 on any lake, wide river, or bay—then out onto the ocean for coastal cruising.
Comfortable and Airy Cabin
Decades of experience in designing pocket cruisers have gone into laying out a cabin which is surprisingly roomy for a compact, 18-foot boat. The oversized companionway hatch opens much of the cabin roof to standing room, the V-berth is bright and comfortable, and two additional sleeping berths double as cushioned bench seating for the convertible dinette table. A hideaway portable head comes standard, and a slide-away galley is available as an option. You will find lots of storage both fore and aft.
Easy Trailering and Setup
Trailering the Malbec 18 is a breeze with a four-cylinder automobile. The optional, custom trailer rides low into the water, and the boat draws just 10 inches with the swing centerboard raised. The mast-raising  and brand-name rigging systems can be handled in minutes by a single person. On the road, you can use the Malbec 18 as your own easily handled and easily parked RV!
Custom Tailored for You!
The Malbec 18 is entirely manufactured in the USA at our Oxnard, California factory, and each boat is tailored specifically to your needs, with a wide range of options. To make ordering easy, three options packages are available to suit any budget—making the Malbec 18 the new, affordable pocket cruising standard for easy "fun in the sun."
Discover or re-discover the simple joy of sailing when wind fills the sails of this beautifully-designed and responsive boat. Find new adventures wherever a boat ramp awaits!
Contact us for pricing and more info!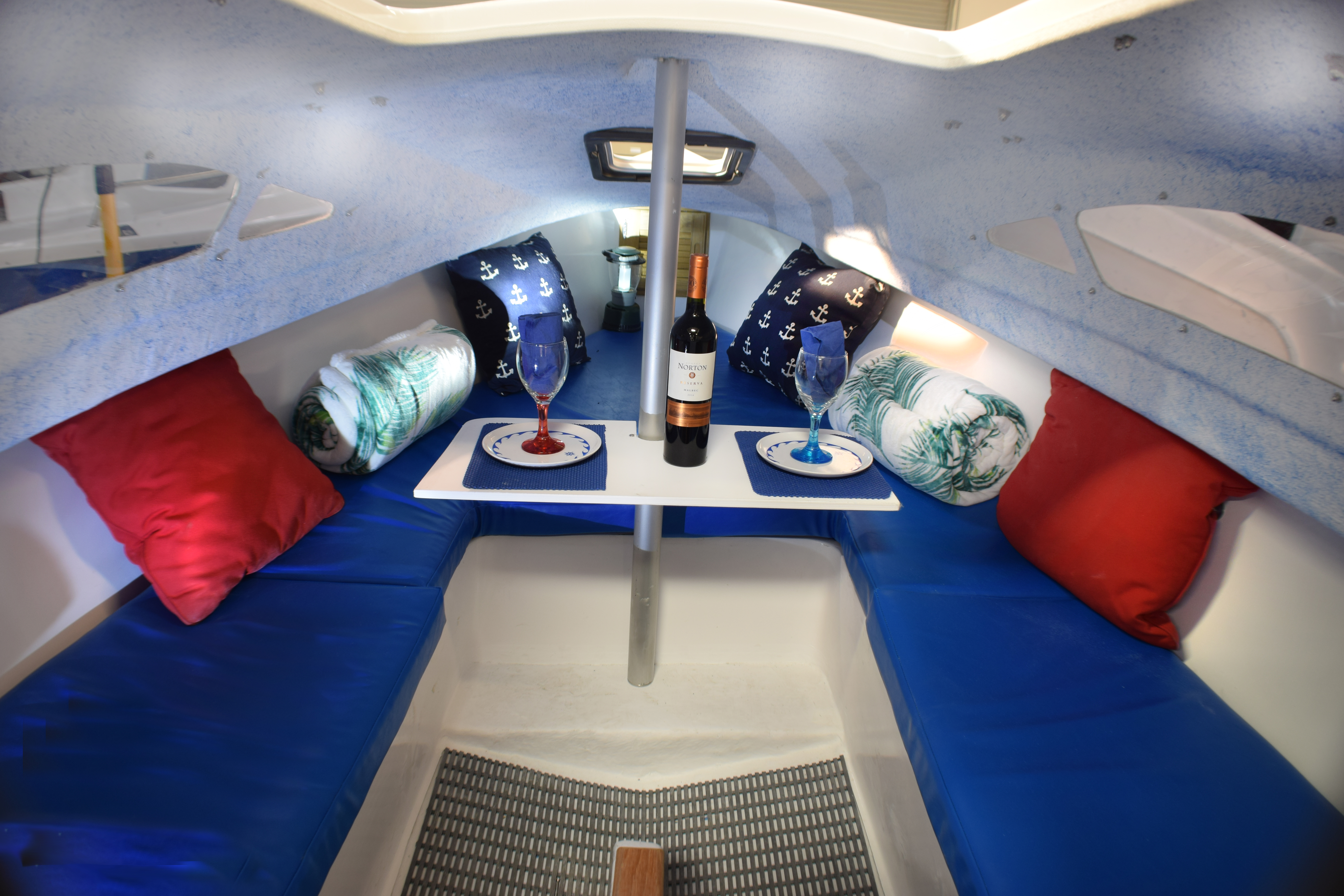 Malbec 18   2022 MSRP  "Sail Away" From:  $39,995.00  
Beachable Pocket Cruiser with sleeping accommodations for four
Sloop Rig
Complete  Sail Control fittings, Halyards and Lines
Featured Ronstan Hardware
5oz White Mainsail and 100% Jib with Malbec Logo
Swing Ballasted Centerboard with Cockpit Mounted Lifting Control
Removable Rudder and Tiller with Mast Crutch
Spacious 6 Foot Cockpit with Room for Six Adults
13×23 Transom Mounted Storage Hatch
Open and Airy Cabin with V Berth for Two and Two Quarter Berths
Forward Opening Hatch by Bomar
Premium Marine Vinyl Covered Cabin Cushions
Ample Storage Below
Optional Slide-out Porta-Potty tucks away for storage
Optional Slide-out Ice Chest tucks away
Custom Fitted Trailer Galvanized or Aluminum
Stainless Steel Bow Pulpit
Stainless Steel Cockpit Rails
Stainless Steel Boarding Ladder
Adjustable  Motor Mount Bracket
Single Handed Package
Malbec 18 Specifications
Length Overall………………………. 18'
Length at Waterline…………….. 16'
Beam……………………………………….. 7'2"
Draft………………………………………… 10" to 3'6"
Cabin Height………………………… 4'6"
Mast length………………………….. 23'
Mast height………………………….. 26'
Boat Weight……………………….. 1500 lbs
Centerboard Weight………… 90 lbs
Additional Lead Ballast……350 lbs
Main Sail…………………………….. 102 SqFt
Jib………………………………………….. 55 SqFt
Optional Genoa…………………..98 SqFt
Optional Spinnaker…………….120SqFt
Power…………………………………. Up to 9HP Outboard
Electrical……………………………..See available options