Malbec 18 Captures Attention
of the World's Leading Sailing Magazines
---
Cruising World Magazine 2018 Best Boats Winners Circle!
Ventura Sport Boats is proud to announce our Winners Circle Award for Best Pocket Cruiser in Cruising Worlds 2018 Best Boats of the Year. It was a pleasure to sail with the judges. They seem to very pleased to have the Malbec 18 enter the Sailing world in America….
---
SAIL Magazine Rave Review!
"The Malbec 18 is a pocket cruiser by definition, but with performance features infused throughout the design.With a nod to the West Wight Potter, the hard-chined 18-footer offers a modern deck plan and a large cockpit that offers space to relax as well as reach all the sail controls. The lead-filled swing centerboard is controlled from the cockpit, making it easy for one person to handle. As a coastal cruiser, there are plenty of features that increase the functionality of the small space… Download PDF of full review.
---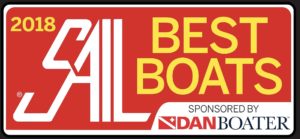 SAIL Magazine Nomination for Best Boat 2018
"Big boats are impressive, but there is a joy to small boats that can't be beat. The brainchild of Argentinian naval designer Heraldo Norbert Ruesch, the Malbec 18 pocket cruiser has a 6ft -long cockpit, while below, there's room for a Porta-Potti and sleeping accommodations for a family of four, as well an optional slide-out galley with sink. A high-aspect rig and centerboard work together to provide the necessary performance for the boat to also serve as a nift y little club racer. Aesthetically, we love the way the Malbec 18's chines, springy sheer and carefully modelled cabintrunk all work together to create a look that is both sporty and purposeful. Ventura Sport Boats, venturasportboats.com" Download PDF of Nominations Page
---
Small Craft Advisor Magazine Loves the Malbec 18!
"It's always exciting when a new production trailersailer comes along—especially one that seems to offer a load of nice features.
In conversations with Ken Lange, former owner of International Marine (West Wight Potter), we learned about a new boat he's helping to launch domestically—the Malbec 18—a sporty pocket cruiser with accommodations for a family of four.  As fans of hard-chined boats, we quite like the aesthetics. The Malbec reminds us of something like a sportier Potter 19, which would also explain why Ken likes the design so much. It seems like it has the potential to be an excellent all-round boat: shallow-draft for easy trailering, good accommodations for a family, and some focus on performance." Download PDF of review
---
Capital Gazette Finds Malbec 18 at Annapolis Boat Show:
Writer Phil Burgess Interviews Ken Lange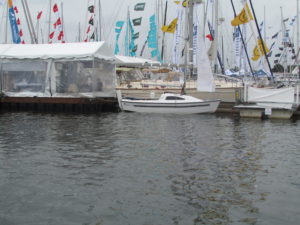 "Last week I devoted part of an afternoon for my annual sprint through the U.S. Sailboat Show in Annapolis. Little boats (but not many), big boats (mostly) and floating condos (a.k.a. catamarans) were in abundance — plus all kinds of gizmos and assorted stuff for sale to enhance the boating experience.
I wouldn't miss it. The sailboat show, for many, is a time to kindle dreams and fantasies. Sometimes they even come true.
I was on my final lap this year when I saw this beautiful little sailboat in the water. It was a Malbec pocket cruiser, 18 feet long and a Sail magazine Boat of the Year nominee.
The Malbec 18, designed by an Argentinian but manufactured in California, looked like the mouse that roared among all the 45- to 60-foot vessels that were resting in the vicinity.
Climbing around to haul heavy sails, adjust the go-fasts or recover an anchor becomes more like work and less like fun once you round the mark of your 60th year.
---
"My Boat Life" Reflects on Ventura 2300 for Boomers
"The Ventura 23 (now the Ventura 2300) sailboat is a trailer-sailor designed to meet needs of both younger and older generation sailors with amenities usually seen on a larger boat. With approximately 4.1 million U.S. participants last year alone, sailing is undoubtedly a beloved hobby for all generations. However, approximately 6.8 million Americans use assistive devices like canes to aid their mobility, and as people transition into their golden years, they may start to think that sailing is less accessible based on their mobility needs. There are, however, a surprising number of sailboats designed with the older generation in mind, according to Phil Burgess, president of the Annapolis Institute and author of "Reboot! What To Do When Your Career Is Over But Your Life Isn't." Burgess recently spoke with Ken Lange, designer and builder of a number of high end sailboats. His most recent creation, called the Ventura 23, is already in production. It's a trailer-sailor on the larger end that has most of the camping-like amenities associated with a larger boat." Read full article.