Trailer Sailing The Joy of Pocket Cruising Its a Road Boat Trip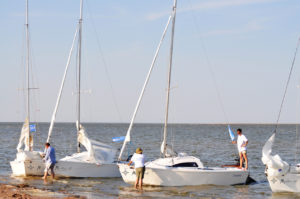 Around the globe, pocket cruising has seen a renaissance among sailors of all ages. Why? It's easy, it's fun, its affordable…and you can go for adventures anywhere you find water!
What is a pocket cruiser? It's a small, lightweight, affordable sailboat that can be trailered and launched from any boat ramp—but a pocket cruiser is a huge step above the typical open daysailer. A good pocket cruiser offers a comfortable, RV-style cabin for overnights and greatly-improved stability and safety on the water.
You can head out for days on a well-built pocket cruiser into lakes, bays, wide rivers, and coastal ocean waters—the adventures are pretty much unlimited. Indeed, several pocket cruisers have circumnavigated the world! There's nothing quite like the fun of launching a small boat into an explored lake or bay and heading out on a brisk breeze.
Pocket cruisers are especially popular in the United States—where huge bays, thousands of lakes, and long, often-sheltered coastlines are paired with an enormous infrastructure of launch ramps.
How Big Are Pocket Cruisers?
Pocket cruisers can range in length from a truly tiny 10 feet up to about 26 feet. After previously manufacturing both a 15' and a 20' cruiser, we are now building in what we believe to be the sweet spots: the 18-foot Malbec 18, and the 23-foot Ventura 2300.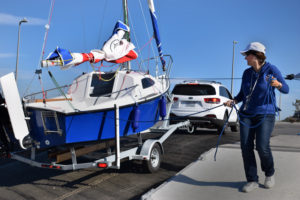 The goals of our right-sizing research? Make sure the boat is easy to trailer and easy to sail—but comfortable, safe, and fast on the water.
Modern designs and materials have revolutionized the traditional pocket cruiser. Our own Malbec 18 offers performance characteristics rarely seen in this class and price point—including classic hard chines and a semi-planing hull.  The computer-designed Ventura 2300 will double as a snappy powerboat.
Thanks to the enormous improvements in performance, you will now find active racing clubs for pocket cruisers throughout the world.
Who Is Heading Out?
Pocket cruisers appeal to new sailors, highly-mobile sailors, and older sailors alike.
New sailors can get involved in the sport without facing the high slip fees and maintenance costs of larger boats—and they find pocket cruisers much easier to handle than their bigger cousins. And rather than learning on a limited daysailer, new sailors can immediately get out on multi-day adventures.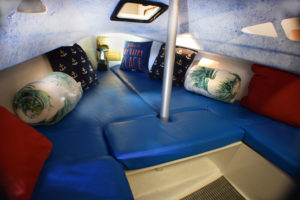 Older sailors often find themselves wanting to downsize from the hassles and expenses of big boats—and like RV folks everywhere, they may want to get out of their usual harbor and trailer to new waters. Sailors who have grown tired of the prep and effort required to take a big yacht out often rediscover the simple joy of sailing when they launch a small, responsive, lightweight vessel.
Importantly, a well-designed pocket cruiser will be easy to singlehand. That means all controls available from the cockpit, ergonomic equipment, and a nicely-balanced helm.
What About Safety?
A  good pocket cruiser provides safety and stability, as well as flexibility. Good hull designs with broad beams are crucial. Ballast can be built into the hull, provided by water-ballast tanks, or molded into a heavy swing-keel.
The Malbec 18 builds most of its ballast into the hull, and only distributes 90 lbs of ballast to its swing centerboard, to ensure the boat offers stability in all circumstances, and remains easy to trailer and beach. It has been extensively used and tested in the open Pacific ocean and has proven itself in rough conditions.
Is There a Community Around Pocket Cruising?
Pocket cruisers love to form clubs and get to know one another.  For example, each year in Lake Havasu City, AZ there is an international gathering of Pocket Cruisers for a week-long convention. The Havasu Pocket Cruiser Convention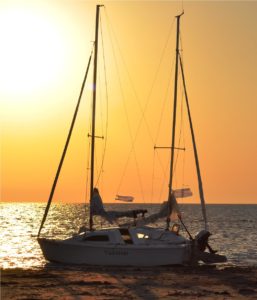 takes place each February and includes sailing, racing, seminars, trade show, and social gatherings. In 2012 nearly 200 pocket cruisers from 26 US States and three Canadian Provinces gathered there to celebrate the art of sailing Pocket Cruisers!
Click here to learn more about the Malbec 18 Pocket Cruiser and get started on your next adventure!